FREE ONLINE COURSE: Fundamentals of Green Growth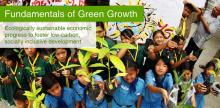 Type: 

On-line course
Duration:

6 weeks
Programme area:

Environment, policy development
The objective of the "Fundamentals of Green Growth" training course is to introduce participants to Green Growth, which is a policy focus for Asia and The Pacific that emphasizes ecologically sustainable economic progress to foster low-carbon, socially inclusive development. This course contains the following four modules
 1.       Sustainable Consumption and Production
Through SCP, countries can improve the eco-efficiency of economic growth. This means getting more from less; including more efficient and profitable production, using less raw materials, bringing competitive advantage; more value added to a product, with less pollution and waste in the process; and more consumer needs fulfilled, with less energy, water or waste.
 2.       Greening Business
Green businesses are defined as enterprises which consider environmental protection as an essential component of their long-term business objectives, both by promoting eco-efficient production activities and by marketing sustainable products and services.
 3.       Sustainable Infrastructure
A sustainable infrastructure system is one that facilitates a higher-quality delivery of housing, transport, energy, water, waste and sanitation services, with less use of resources, to support social and economic development in an integrated, eco-efficient and inclusive manner.
 4.       Green Tax and Budget Reform
GTBR is a fundamental fiscal policy instrument for: reducing poverty; raising fiscal revenues; and improving eco-efficiency, public health, and environmental quality.