New LiDAR data to manage sea level rise risks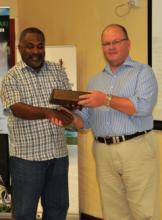 Vanuatu can now model sea level rise, storm surge and cyclone, tsunamis inundation and will be able to plan and manage the impacts of climate change and coastal disasters after receiving from the Australian Government a modern advance data known as LiDAR.
Minister for Climate Change and Natural Disasters, Steven Kalsakau received the visual remote detecting technology that provides extremely accurate, high-resolution elevation data from the Australian High Commissioner, Jeremy Bruer, at the National Disaster Management Office in Port Vila.
Vanuatu like other pacific countries is susceptible to climate change. With most people living at the coastal areas, there is urgent need to understand the current and future risk of climate change, coastal erosion and extreme events to settlement and infrastructure.
Priorities low lying coastal areas of Efate, Santo and Malekula, homes to a large proportion of Vanuatu's population containing infrastructure and crucial government services are only few meters above sea level have received the initial collections of high resolution topographic data through Light Detection and Ranging (LiDAR) technology.
The data will be an important tool in the provision of land administration services, said Commissioner Bruer. He said this new data invaluable helps the government understand and manage coastal risks to protect communities and livelihoods.
In his speech Minister Kalsakau stressed observations at Bauerfield and in Aneityum suggest the country's minimum and maximum temperatures have been increasing since 1960 thus, changes in rainfall patterns, more hotter and rainy days, more intense cyclones and of course continues sea level rise is no doubt to expect in the coming years.
"With the current growing population and its high demand on resources, planning and informed decision making in strengthening adaptation response and building resilience is urgently needed.
"The LiDAR project will take planning and decision making to a next level. Not only for climate change but these data also benefits decision makers in other sectors as maritime, infrastructure, survey and education", said Minister Kalsakau.
Airborne LiDAR measures distance (height or depth), maps coral reefs, plan construction sites, monitor land subsidence, detect changes in vegetable growth and valuable to calculate inundation levels, drainage, catchment boundaries, water flow and water sinks.
Training will be provided for government agencies on how to use the data captures, particularly form modelling of sea level rise impacts on assets at risk will be provided.
The Vanuatu and Australian governments conducted the surveys jointly, with funding from Australia's Pacific-Australia Climate Change Science and Adaptation Planning (PACCSAP) program.
Faster Internet connections will add value to the use of the data with its delivery and availability given timely to the landing of the underwater cable and both the government and private sector's hook to the cable.
Vanuatu government has agreed for the data to be made freely available to the public through Google Earth. A short video demonstrating the new data could be seen via this website: https://www.hightail.com/download/elNJSU5LbEpRYThzeHNUQw.