Capturing Traditional Knowledge on Weather and Climate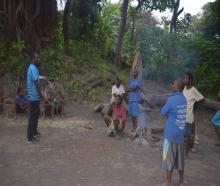 Two officers from the Climate Division took part in a two-week trip to Tanna to collect and verify traditional indicators on weather and climate for VMGD's Traditional Knowledge (TK) Project. The TK project aims to preserve traditional seasonal forecasting, and encourage communities to use traditional knowledge and contemporary forecasting in order to increase community resilience to extreme events.
The officers began their trip on the Southeast side of the island at Enumakel village before travelling counter-clockwise around Tanna stopping to meet with 12 communities.
Surveys were provided to the communities to collect indicators such as local animal behavior, plant behavior, and conditions of weather and climate. After information collection, there is a monitoring and verification phase that allows for the identification of traditional indicators that will be integrated within conventional seasonal forecasts and shared back to the communities at Tanna.
Being highly exposed to risks of extreme events, local communities in Vanuatu have developed their own predictions of weather and climate variables. According to traditional forecasting, a plant flowering earlier in the season can indicate a prolonged dry period ahead and similarly the presence of flying cockroaches can indicate approaching rain.
TK collection sites have also included Ureparapara, Pentecost, Ambae and Malekula since the project began in July 2016.
The project is managed by Vanuatu Meteorological and Geo-Hazard Department (VMGD) in partnership with the Climate and Oceans Support Program in the Pacific (COSPPac), Secretariat of the Pacific Regional Environment Programme (SPREP), Vanuatu Cultural Center and Red Cross.
For more information about the TK project, please contact VMGD – Climate Division or call 22068
By Climate Division, Ministry of Climate Change Adaptation