COP23 Induction Session held for Vanuatu Delegation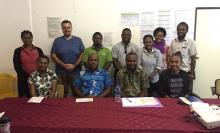 Vanuatu's delegation for the 23rd annual Conference of the Parties (COP23) of the United Nations Framework Convention on Climate Change (UNFCCC) were engaged in an induction workshop on the 10th August to prepare them for the upcoming climate change negotiations in November at Bonn, Germany.
The workshop, hosted by the National Advisory Board of Climate Change and Risk Reduction's (NAB) UNFCCC Taskforce, was attended by 13 delegates selected to represent Vanuatu at COP23. There are 23 delegates in total, including representatives from government, academia, civil society and the private sector. Eight delegates are senior ranking government officials including Honorable MP Albert Williams who will be leading Vanuatu's Climate Finance team.
COP23 Delegate and Ministry of Climate Change Expenditure Analyst Alexandria Masteia explained, "the workshop involved the delegates signing our contracts. We were also informed of what is expected from us in preparation for the COP23. Future workshops will train us in negotiation which will be important for us to learn, especially for the delegates who are attending a COP for the first time."
Fiji is set to preside over COP23 in Bonn, Germany between November 6-17 November. It will be the first time that a Small Island Developing State will preside over the Conference of Parties to the UNFCCC.
Kate Donnelly, a NAB Secretariat Intern assisting the UNFCCC Taskforce with COP23 preparations this year said, "Vanuatu wants to work closely with the COP23 President and our other Pacific neighbours. We want to make sure our negotiation positions are strong and unified in Bonn so that Pacific voices are heard loud and clear."
The focus of negotiations at COP23 will be the development of implementation guidelines for the Paris Agreement, a landmark agreement that commits the global community to less than 2 degrees Celsius of global warming. These guidelines will establish the rules for how the ambitious goals contained in the Paris Agreement are to be achieved.
For more information, please call the NAB Secretariat, Ministry of Climate Change Adaptation on 22068.
By NAB Secretariat, Ministry of  Climate Change Adaptation