CSO REDD+ Meeting a Success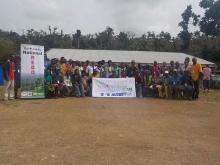 Hugely successful Efate CSO Consultation on Climate Change and REDD+ held last week at the Epule Village.
The Secretariat wishes to extend its gratitude to those presenters who took their time to attend the Efate CSO Consultation on Climate Change and REDD+ at the Epule Village and who made wonderful presentations in the REDD+ strategic options on Agro-Forestry, Conservation, Aqua-Culture, Livestock, Silvi-Pastoral and Eco-Tourism.
The presentations have tremendously enhanced the understanding and knowledge of the reps of the indigenous peoples of Efate on the various strategic options to alleviate pressure from our forests, climate change adaptation and on 'what is REDD+'.
This workshop builds on the work of the GIZ REDD+ project to achieve The conservation of forest ecosystems in the Pacific Island Countries is supported in order to mitigate climate change and protect biodiversity. 
As the National CSO Platform for Climate Change and REDD+, it is paramount that you keep up to date with all the work done to date under our National REDD+ Program.
It is important that the platform continues with the free prior informed consent and to empower and sensitise the civil society and the indigenous population on 'what is REDD+'. The experience gained at the Efate CSO consultation in Epule Village has been rewarding and we will maintain this momentum.
 
Charlie Timpoloa Harrison
A/CEO
Vanuatu Association of Non-Governmental Organisations
VANGO Secretariat
C/o - Forestry Building
PMB 9064
Tagabe Airport Road
Port Vila
Republic of Vanuatu
Tel: (678) 23171 (w) / 5958237 / 7777228 (m)
Email: vangosec@gmail.com / vango@piango.net