Department of Climate Change Kick Start Provincial Outreach Program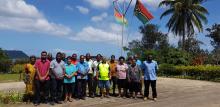 The Department of Climate Change (DOCC) and the National Advisory Board on Climate Change and Disaster Risk Reduction in Vanuatu (NAB) Secretariat conducted an outreach and awareness workshop with Shefa Provincial Government authorities on the role and function of the new DoCC in the country. This workshop took place at the Shefa Provincial Government Council Chamber in Port Vila this week and brings together members of the Technical Advisory Committee (TAC) and heads of climate change and disaster risk reduction stakeholders within Shefa Province.
This workshop is part of a nationwide Provincial Outreach and awareness Program the newly established department of climate change in collaboration with the NAB is conducting on all Provinces throughout the country in the month of September to October 2019.
The Secretary General for Shefa Province Sakaria Daniel thanked the outreach team for visiting his province highlighting the need for more partnership with the DoCC and Shefa Province when dealing with climate change and disaster risk reduction issues. "I believe today's program made a milestone of our relationship in our partnership into future initiatives in CC, I assure you that Shefa province will work with the DoCC at all time in addressing CC in future." He said.
Key areas discussed during this workshop are the functions of the DoCC and NAB, what are their roles and responsibilities, how to use the NAB Portal, stock take of all CC and DRR activities and initiatives within Shefa Province.
The purpose of this outreach program is to make known to key government authorities within the provinces on the DoCC's and NAB's services and to improve the knowledge and understanding of the people of the existence of DoCC and NAB as part of its continuous awareness, outreach and partnerships initiatives after its humble beginning at the beginning of this year 2019.
It is the hope of the new Department and the NAB Secretariat through this collaboration to create partnerships and to conduct surveys on adaptation, mitigation, communications and monitoring and evaluation needs to improve its products and services in future. This program is also an opportunity to share and collect relevant information and feedback from everybody at the provincial, community and general public on the use and perception of the functions of DoCC and NAB.
The result of this outreach and awareness program and especially the stock take activities will help to assess and measure the climate change and disaster risk management services provided to the general public, which will also contribute to improving DoCC's and NAB's overall services.
Similar outreach and awareness program will take place in all other five provinces in the coming weeks. This program is funded by the Department of Climate Change with support from the NAB Secretariat.