FIRST EDITION OF THE PACIFIC ECOSYSTEM.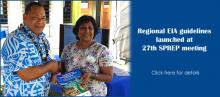 First edition of the Pacific Ecosystem-based Adaptation to Climate Change (PEBACC) Newsletter:
New guidelines for environmental impact assessment (EIA) were launched at the twenty-seventh annual SPREP meeting in Niue this week. In the wake of increasing development in sectors such as tourism, land mining, energy and transport, and with novel forms of development on the horizon, like deep sea mining, Pacific island countries have called for stronger EIA systems and further EIA capacity-building.
The guidelines were developed by the Environmental Monitoring and Governance (EMG) Division of the Secretariat of the Pacific Regional Environment Programme (SPREP) in response to these calls.
The new guidelines will support SPREP's long-running EIA assistance programme in Pacific island countries, which has included general EIA awareness-raising and  assistance with the development and implementation of national EIA laws," said Mr Clark Peteru, Acting Director of the EMG Division.
The newly-launched publication, titled 'Strengthening environmental impact assessment: guidelines for Pacific island countries and territories', explains that EIA is a tool for identifying and managing the impacts of development on the environment, to help ensure negative impacts are minimised and positive impacts are maximised. The guidelines also emphasise that EIA can be used to make developments more resilient in the face of climate change.
"They have been developed as a practical, user-friendly manual that includes a tool kit with step-by-step instructions and checklists for key stages of the EIA process such as screening new developments, developing terms of reference for EIA reports, and reviewing EIA reports," said Mr Peteru.
Attachment:

PEBACC Newsletter_4th Quarter 2016.pdf
(1.64 MB)