Local business house donation to assist with protein food supplements for affected communities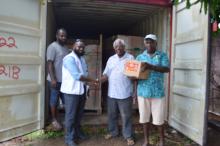 The National Disaster Management Office (NDMO) has received a container of 770 cartons of baked beans totalling up to 18, 480 tins, worth 1,848,000 million vatu as donation from the Melanesian Business Estate and Consultant Services (MBECS) in Port Vila on Thursday 30 April 2020.
As the owner of MBECS in Vanuatu, Mr Stanley Alick is pleased to hand over the container of baked beans to support the response efforts of the national government to those affected by TC Harold.
He stated that the main reason behind this donation is to assist in the food distribution to the affected communities who have lost their gardens and other means of food supplies due to the damage caused by TC Harold.
The Acting Director of Agriculture Mark Vurobaravu in his letter to the NDMO Director Abraham Nasak accompanying this donation, stated that the Food Security and Agriculture Cluster confirmed that the canned baked beans will be used as protein supplement of food rations required for distribution as relief food supplies.
A confirmation from the Director of Public Health also commented that the baked beans donated are safe for consumption and has nutritional facts and ingredients added to it for people to consume and so declare fit for distribution.
Director Mike Waiwai upon receiving the donation thanked Mr Alick as one of the local business owners for his kind contribution towards the food relief supplies to the TC Harold affected communities.
NDMO will organise the distribution of these food items to the affected islands soon.