MACBIO website launch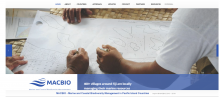 The Marine & Coastal Biodiversity in Pacific Islands website was successfully soft launched on the 22nd July 2016.
     Website URL: http://macbio-pacific.info/
Marine and Costal Biodiversity Management in Pacific Island Countries.
MANAGING MARINE BIODIVERSITY
Strengthening institutional and individual capacity to
manage and conserve biodiversity in marine and coastal ecosystems,
aiming to support economies and livelihoods of Pacific island states.
A project commissioned by BMUB to GIZ and jointly implemented bySPREP, IUCN and GIZ from 2013 to 2018.