More Disaster Emergency Centres in Provinces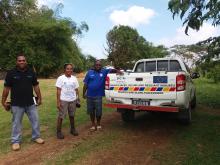 The National Disaster Management Office (NDMO) though the Ministry of Climate Change continues to strengthen Vanuatu's capacity in Emergency Operations against catastrophic events in our Provinces. Beginning June this year, The European Union through the Secretariat of the Pacific Communities (SPC) initiated a project to fund 3 Provincial Emergency Operational Centres under NDMO for coordinating activities before, during and after disasters in Santo-Luganiville (Sanma Province), Lakatoro (Malampa Province) and Saratamata-East Ambae (Penama Province).
These Mini NDMO offices at the Provincial level (containing 2 offices, a big operation center and a media room) will enable response to disasters in these 3 Provinces. All clusters (thematic groups that work during a disaster operation) will be operating here during a disaster. All sites for these Emergency Operational Centres were identified as of this month. The buildings will be a slight modification of the ones World bank funded for Tafea and Torba.
Ian Iercet, Project Coordinator, stated that "Coordination in Provincial areas after a disaster is often a challenge in terms of communication and reliable information" thus the construction of these emergency Operation centres will definitely reduce some of these challenges.
The construction of these 3 Provincial Emergency Operational Centres is now out for tender. All contractors around Port Vila are invited to submit their bids until the end of August.
For more detail, contact the NDMO, Ministry of Climate Change on 22068.
Photo: from left to right, Sanma Provincial Disaster Officer, Peter Korisa - Disaster Operations Manager and Norma - Environment Officer standing on Sanma selected site
By NDMO, Ministry of  Climate Change Adaptation