National framework for climate services launched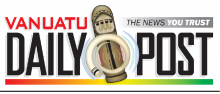 Vanuatu now has a national framework for climate services.
It was developed by the Ministry of Climate Change with assistance from the Secretariat of the
Pacific Environment Programme (SPREP), World Health Organisation and regional partners.
The First Political Adviser (PA) to the Ministry of Climate Change, Clifford Bice, launched the
framework on behalf of Minister Ham Lini who went to Futuna for the oneyear
memorial of late
Edward Natapei.