NDMO receives assistance from Presbyterian Church of Vanuatu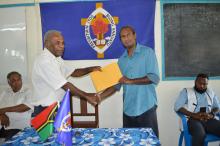 The National Disaster Management Office (NDMO) has received 200,000 thousand vatu as assistance to its operations from the Presbyterian Church in Vanuatu.
The Clerk of the Presbyterian Church in Vanuatu Pastor Allen Nafuki made the handing over to the Director of NDMO Abraham Nasak this week in Port Vila.
"I am proud on this initiative from the Presbyterian Church in Vanuatu to support the work of NDMO and we will continue to help our people during this times of disasters," he said.
Director Nasak in receiving the donation thanked the Presbyterian Church communities for their generous support to NDMO as the focal point for all disaster related issues in Vanuatu and assured those present at the ceremony that the funds will be used to support the work of the NDMO during the response phase.
Presbyterian Church in Vanuatu this week has also donated much relief supplies of both food and non-food items towards TC Harold and COVID 19 to NDMO. These relief supplies were donated and coordinated by the Presbyterian Church communities especially around the island of Efate.
NDMO continues to coordinate all response of relief supplies to all affected islands due to TC Harold, Tanna Ash Fall, COVID 19 and Teouma flooding.