NDMO receives donation of relief items from Mele Village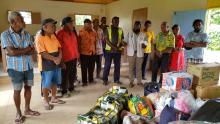 The National Disaster Management Office (NDMO) has received much donated goods and relief items from Mele village in the Island of Efate this week towards TC Harold response.
Paramount Chief Simeon Poilapa Tivatelapa IV of Mele village handed over the donated items with 100,000 vatu to the Controller of the National Emergency Operation Center (NEOC) at NDMO Director Mike Waiwai at Mele village.
Witnessing the handing over ceremony are the Assistant Paramount Chief of Mele village Chief Tasila Marik Melu and members of the Mele Area Council of Chiefs. 
In handing over the donated items to NDMO, Paramount Chief Poilapa stressed the importance of giving and helping each other during disaster times from our communities as a way of showing love and care towards one another.  
"This donation shows the heart of my people in Mele to help those who need our support at this time," he said.                                 
In receiving the donation on behalf of the national government, Director Waiwai thanked the paramount chief and his people for their  willingness to support those families in need in the affected islands.
"On behalf of the national government, I want to thank the people of Mele village for the kind donation, your role as community leaders is to help people which shows that our communities are resilient as we ourselves can support each other with what we have." He said.
NDMO Logistics Team has already transported the donated goods from Mele to the storage area at the main wharf in Port Vila ready to be shipped to the islands soon.