Over 92,000 population affected by TC Harold in most affected provinces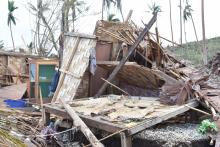 A total population of 92,274 and 30,996 households from 345 communities from the three affected provinces of Sanma, Penama and Malampa were affected by TC Harold.
This was confirmed by the Rapid Technical Assessment (RTA) Report produced by the National Disaster Management Office (NDMO) this week.
This report was produced based on the findings from the rapid technical assessments done for Sanma, Penama and Malampa provinces as the priority provinces where major damages from TC Harold were recorded.
The report showed that in Sanma province, there are 53, 943 affected population with 15, 854 households destroyed from the 158 affected communities.
In Penama province, 17,026 populations are affected with 8,682 households and 69 communities are affected according to the assessment findings.
For Malampa province, there are 21,305 affected populations with 6,460 households from 118 affected communities.
From this affected population, there are a total of 17,828 displacement population for all three provinces. 12,177 displaced population for Sanma province, 4,229 population for Penama province and 1,422 population for Malampa province. According to the RTA report, those displacement population are currently living in evacuation centres due to their homes destroyed by the cyclone.
The assessment report highlighted immediate needs as food security and agriculture, health, education, wash, shelter and evacuation centres, gender and protection, emergency telecommunication and logistics for all three provinces.
The assessment has enabled the collection of essential information in order to provide adequate assistance to those affected. The assessment also allows the NDMO to make strategic decision to be implemented at the affected areas.
NDMO sent out this final report this week to all Clusters and partners to assist them with their response and distribution plans to the affected provinces in the coming weeks.
Similar rapid technical assessments reports for Torba and Shefa provinces will be finalised and submitted to NDMO soon.