Phase out of Ozone Depleting Substances Workshop Held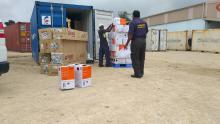 Department of Customs and Inland Revenue officers attended a 3-day workshop held to improve the monitoring and tracking of ozone depleting substances (ODS). The workshop was hosted by the Department of Environmental Protection and Conservation (DEPC) and the United Nations Environment Programme at the Vanuatu Meteorology and Geo-Hazards Department (VMGD), between the 8th-10th of August.
The workshop was part of the regional HCFC Phase-out Management Plan (HPMP) which aims to assist Pacific Island Countries including Vanuatu to reduce the import and use of hydrochlorofluorocarbon-22 (HCFC-22) - a substance widely used in air-conditioning and refrigeration equipment.  This substance is to be phased out as per obligation under the Montreal Protocol – an international agreement aimed to regulate the production and use of chemicals that contribute to the depletion of Earth's ozone layer.
UN Environment Montreal Protocol Compliance Assistance Programme HPMP Officer, Mr. Pipat said, Vanuatu has established a licensing and quota system for HCFC for which businesses are required to have a license to import a limited quantity of such substances. 
"There have been incidents of smuggling of ODS or mislabeling of containers in a number of countries. Building the capacity of customs and enforcement officers to understand the country licensing system and inspection method has played a vital role in combating illegal trade of these controlled substances," added Mr Pipat.
The HPMP program seeks to help CIR to strengthen their inspection skills and establish a data collection system that will keep track of ODS, making it easier to measure whether import quantities exceed quotas and prevent mislabeling of containers entering into the country.
Stage I of the HPMP program commenced in 2011 and will conclude in 2020. There will be a consultation in the coming years to brainstorm the design of the next stage of the project, which will begin in 2021.
By Department of Environment, Ministry of Climate Change