Tourism, Renewable Energy & Climate Change Project Success in Vanuatu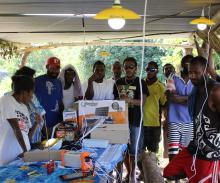 This week the Government of Vanuatu, in partnership with GIZ climate change, has concluded the first ever program to link rural tourism operators with renewable energy technologies.  Twenty-nine island bungalows on the islands of Emae, Efate, Pele and Nguna were supported to procure subsidized solar lighting systems that have been vetted to international standards for quality and reliability.  These lighting systems are one step towards obtaining official tourism permits and the meeting minimum eco-tourism standards. 
Solar systems help to mitigate the impacts of climate change by decreasing carbon dioxide emissions associated with fossil fuel-powered generators.  Solar is a clean and renewable energy source, using light from the sun to power lights, run fans and recharge mobile phones.  This Vanuatu Government-led project is innovative in that it gives a 60% subsidy to private sector bungalow owners to help them improve the services they provide to guests through solar, and thereby help them increase the revenue they are able to generate.  With increased income, bungalow owners can then invest in climate adaptation activities like climate-proofing bungalows, installing watertanks, planting backyard gardens or even relocating away from the eroding coastline. 
Vanuatu's National Energy Roadmap (NERM), aims to provide 100% access to sustainable and reliable renewable electricity in-off grids areas by 2030, which is fully in line with Vanuatu's Strategic Tourism Action Plan aiming to promote rural electrification through renewable energy to support tourism investment. 
GIZ's Renewable Energy on Islands Program provided the finance to test the solar subsidy system with island bungalow operators for viability before the Government develops a major national program is scaled-up to the entire country.  Officers from the Department of Energy, the Department of Tourism, GIZ and 2 private-sector solar companies, e-Tech and PCS, travelled to Emae, Nguna and Pele to meet with bungalow owners, handover the equipment, run training programs with island leaders and discuss the climate change links between renewable energy and tourism. 
Mr. James Willie, owner of Nampauwia Guesthouse on Emae Island recalled that "In the past we could only charge guests a very low accommodation rate because we couldn't provide light all night or 24 hour charging of phones and tablets.  This project helped us afford a quality solar system, and the money we now save in generator fuel is already being spent on repairing the roof to make it more resilient to Cyclones and other climate changes."
Tourism is expected to contribute over 58% of Vanuatu's GDP by 2025, but this will be dependent on reliable, affordable, environmentally friendly and low-carbon energy supply. Small tourism operators on off-grid outer islands often only provide intermittent energy services such as lighting, cooling, communication, and refrigeration because they use generators and fuel is expensive. According to the Department of Tourism (DoT) there are around 425 rural tourism business operators in Vanuatu out of which only around 100 operators have complied with the Governments operator minimum standards which include lighting in every room as part of compliance requirements.
Department of Energy officer James Alick commented that "this is the first time we have been able to support the private tourism sector to obtain solar lighting systems. We have developed a poster which highlights the benefits to small bungalow owners of using renewable energy, tourists can charge their mobile phones and radios to be able to get storm early warnings, all-night lighting improves safety and security, operators save money by not buying generator fuel, and visitors are more comfortable with solar fan cooling.  This poster really makes a great case for tourism, climate change and energy working together closely in the future."
GIZ conducted baseline studies with each of the island bungalow owners and found that the average accommodation rate per night is 3,500vt but with the improved energy services now provided all operators indicated that their rates would be increased and new investment would be made in adaptation activities. 
Kathy Stephens of the Department of Tourism and SHEFA Province told communities on Emae that "our province is so valuable for eco-tourism and we all need to work together to make sure that our visitors have the best energy services, enjoy the most beautiful environment and experience communities that are resilient to climate change."
For more information on this innovative Tourism Renewable Energy and Climate Change program, contact the Department of Tourism, the Department of Energy & GIZ.  Visit the website of the National Advisory Board on Climate Change & Disaster Risk Reduction or email vanuatuclimatechange@gmail.com