The True Value of Our Ocean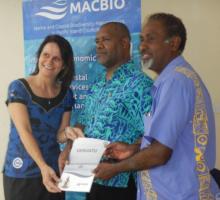 A detailed report (called the 'MACBIO Vanuatu Marine Ecosystem Services Valuation') assessing the relatively known, and sometimes hidden values of Vanuatu's ocean has been provided to the Vanuatu Government. A Senior Officer from the Marine and Costal Biodiversity Management in Pacific Island Countries (MACBIO) project, Dr Leanne Fernandez handed over the report to both the Directors of the Ports and Harbour Department, Henry Worek, and Ministry of Foreign Affairs, International Cooperation and External Trade,maritime division; Tony Tevi on the 20th July.
The research for the extensive report was undertaken in collaboration between researchers, consultants, and staff at (MACBIO) and government partners, line agencies, and other key stakeholders and aims to determine the economic value of seven key marine and coastal ecosystem services in Vanuatu. These seven major marine ecosystem services that were evaluated include, subsistence fishing; commercial fishing; minerals and mining; tourism; coastal protection; carbon sequestration; and marine research and management.
 
Mr  Toney Tevi praised the report, commenting that the government can use the results to build on these assessed valuesconsidered in the report, in a holistic approach, as such a concise in-depth study of the different and yet integrated values of Vanuatu's ocean, has never happened, or been few and far between, subsistence fishing for example usually is of the least considered values in the past, with regards to national accounts/economic valuation, and the subsequentdecision making, although 80% of Vanuatu's population depend on it,and the marine and coastal ecosystems for their livelihood and food security, these values are usually not captured in national valuation, tending to look more at commercial fishing/enterprise etc, these and other values are often not seen in national accounts or business operations and their value is only perceived when we lose them.
Assigning monetary values to ecosystem services is a powerful tool which makes these benefits visible and may contribute to improving the wise use and management of the ecosystem that provide them So this report highlights these discrepancies and has a look at capturing the "whole picture" to better inform decision making to make informed valued judgement in, environmental impact assessments, marine fisheries, marine ecosystem valuation, in informed marine spatial planning, in disaster risk reduction and other initiatives within Vanuatu's marine space just to name just a new.
 
The report forms part of the broader MACBIO project that aims to strengthen the management of marine and coastal biodiversity in Pacific island countries.
By Vanuatu Department of Environment, Protection and Conservation, Ministry of Climate Change Adaptation