Vanuatu Prime Minister Charlot Salwai visits NIWA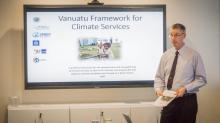 Vanuatu Prime Minister Charlot Salwai visited NIWA's Wellington campus this week, as part of his first official visit to New Zealand.
Mr Salwai, and a delegation of officials, were at NIWA to learn more about a unique programme that aims to help the small Pacific nation better understand how weather hazards such as flooding and storm surge the country faces.
Pacific Risk Tool for Resilience
Hazards engineer Dr Kate Crowley gave Mr Salwai an overview of the Pacific Risk Tool for Resilience or PARTneR Project, funded by the New Zealand Aid Partnership Programme.
Vanuatu is one of two Pacific countries in which the NIWA and GNS Science Riskscape Tool is being tailored to help improve knowledge of how people and buildings may be affected by hazards.
Mr Salwai said this was particularly important to the future land use practices of the country, in particular the capital, Port Vila.
Dr Crowley alongside colleagues from SPC-Geoscience Division and GNS Science will return to Vanuatu in September to work with officials on identifying case studies to determine where Riskscape would be most useful. The PARTneR Project will run for three years.
Development and strengthening of climate services for Vanuatu
Dr Andrew Tait also presented information to the delegation on the Vanuatu Framework for Climate Services, which is the first of its kind to be produced in the Pacific. The framework, which has just been completed, is a guidance document for development and strengthening of climate services so that Vanuatu can adapt to climate variability and change. Two projects have been identified as a result, one to develop tailored climate products and training and the second to improve communication channels.