Pacific Journalists into Climate Change training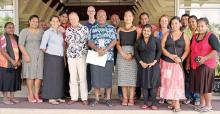 Journalists provide information vital to the maintenance of governance systems, human health and the health of our environment. With more people in the Pacific, particularly the young, heading online in search of news and entertainment, the demands of the job are evolving.
Multimedia trainers from the academy of Deutsche Welle – Germany's foreign broadcaster – recently touched down in Nadi, Fiji, to teach a group of media professionals from Cook Islands, Fiji, Kiribati, Papua New Guinea, Samoa, Solomon Islands, Tuvalu and Vanuatu how to produce engaging multimedia content for audiences that are connected.
From 14 to 25 October, the group participated in an intensive two-week workshop focussed on environmental journalism with the theme: Multimedia reporting on climate change in the Pacific.
Florence Kuali-Lautu, Communications Officer for the National Advisory Board on Climate Change and Disaster Risk Reduction in Vanuatu, says the workshop is, 'helping journalists and people like myself to provide information on climate change and disaster risk reduction using multimedia tools'.
Lanuola Tusani, a reporter for the Samoa Observer, says the internet will be playing an increasingly important role for news providers. 'I think it is heading that way. People are getting updates through Facebook and they are always on the phone checking their Facebook and, yeah, I think more people are getting news this way.'
Leni Dalavera from the Solomon Islands Broadcasting Corporation says, 'What I'm doing now is finding the right tools to make the message interesting and effective. The most interesting thing for me has been learning to use web tools, because I come from a radio background, so I'm learning about blogging and different formats for presenting.'
Dalevera says that, for him, environmental reporting is more than a job. After witnessing the death of a child during the April 2007 tsunami in Solomon Islands, it has become his mission as a journalist to educate and provide information. 
'I asked myself if I had done enough to report on the dangers of natural hazards and important issues like climate change. If I had done enough reporting on these issues, then people would have been hiding after the earthquake. Instead, the children were actually running toward the reef to find shells and fish when the sea pulled back.' Minutes later the sea would roar forward again as the tsunami made landfall.
The workshop aimed to provide participants with improved knowledge on key environmental issues, including climate change, and new skills suitable for delivering technical and scientific information to audiences using the internet.
The training was the initiative of, and largely funded by, the Federal Foreign Office of the Federal Republic of Germany. It was organised by DW Akademie with the support of Deutsche Gesellschaft für Internationale Zusammenarbeit (GIZ) and the Secretariat of the Pacific Community.
The workshop participants worked in small groups to produce and upload content to a specially created blog. You can check it out here: http://training.dw.de/ausbildung/blogs/pacific/