350 Pacific – Warrior Day of Action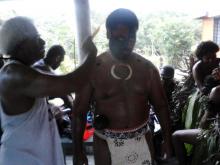 "We are not drowning. We are fighting" – will be the key message when organisers across 14 Pacific Island Nations will come together in mass numbers on their islands, at prominent locations to perform their unique war challenges, songs, and dances to tell the world that the time for climate action is now.
The 350.org Pacific Warrior Day of Action will take place on Saturday March 2nd, 2013 with a single, unified message from Pacific Island communities."This is our way of sending a message to the world that we stand in solidarity against the unwelcomed global reality - climate change."
350 Pacific spokesperson Mikaele Maiava explained "We do not want to be perceived as vulnerable victims to this global crisis of climate change but as fighting warriors."
Across the Pacific Islands, momentum is growing for this "first-of-its-kind" day of action which will showcase the unique warrior spirit of island communities.350 Pacific's youthful local organisers have planned massive actions, from sunrise to sunset on Saturday, targeting grassroots people to the heads of states involved with their Day of Action.
Organisers in the 100% renewablely powered islands of Tokelau are expecting 200 people to partake in the Warrior Day of Action, while in Samoa, the14-year old 350 Samoa coordinator, Brianna Fruean will lead the 250 pre-schoolers and the Manu Samoa Rugby team to do a Manu Siva Tau. Each of the other Pacific islands have large scale activities lined-up, with the determination that the world sit-up and take notice.
Countries involved in the Warrior Day of Action are: Fiji, Samoa, American Samoa, Tonga, Solomon Is, Vanuatu, Tokelau, Niue, Cook Is, Federated States of Micronesia, Marshall Islands, Palau, Nauru, Tuvalu, and Kiribati.
Photos and videos from the events will be shared around the world through 350.org's global network.
350 Pacific is a youth-led climate change volunteer network in the Pacific. The Warrior Day of Action is to kick-start the Pacific Islands "100% Possible to be Heard" campaign which was launched at the conclusion of the Power Shift NZ-Pacific climate summit in Auckland, New Zealand in December 2012.
"This campaign is the Pacific's chance to lead by example and push global carbon emitters to be accountable for their actions and take responsibility of the damage they are doing to the climate and Pacific communities."
The Warrior Day of Action is also supported by the Pacific Voyagers Foundation and UNICEF Pacific.
You can join the campaign from whichever part of the Pacific you are in here.
For further information or clarification, please contact:
Kelvin Anthony (350.org Pacific Campaign Coordinator)
Email: Kelvin@350.org, Ph: +679 9463700
Mikaele Maiava (350.org Pacific Spokesperson),
Email: mikaele.maiava@gmail.com, Ph: +690 4115