NDMO DISTRIBUTION OF IMMEDIATE RESPONSE RELIEF SUPPLIES TO TC HAROLD VICTIMS CONTINUES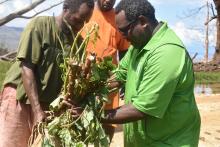 The National Disaster Management Office (NDMO) distribution of immediate emergency relief supplies to the victims of Tropical Cyclone (TC) Harold is continuing for Sanma, Penama and Malampa provinces this week.   
The current distribution of immediate supplies is coordinated by NDMO on behalf of the national government with assistance from the Non-Government Organisations (NGO) partners in Vanuatu who are currently responding with distribution of immediate emergency relief supplies in high priority areas in the affected islands.
The Logistics Team coordinated by NDMO confirmed almost 80 percent of the total 92,274 affected population have received government assistance since TC Harold destroyed their homes, gardens and properties.
According to the latest situation report for Sanma province, food distribution in Malo, Aore, Tutuba, Bokisa, Mavea Islands, Luganville, South Santo 1 and 2  have been completed, while 95 percent complete for Big Bay bush, Canal Fanafo and South East Santo areas as of this week. Distribution by helicopter to West Coast inland areas have also been completed. The remaining Area Councils still to cover are Big Bay Coast and North West Santo. Food is distributed by NDMO team while shelter kits are distributed by shelter cluster members, Red Cross, Save the Children, ADRA, World Vision and Public Works.
In Penama province, the distribution update for this week shows that all distribution for Central Pentecost 1 and 2, South Pentecost Area Councils have been completed. Distribution in North Pentecost have started this week with the shipment of relief supplies first arrived in Atavtabanga on Wednesday this week by Touaraken 3. Report from the Provincial Disaster Office (PDOC) in Saratama also confirmed all distribution on Ambae have also been completed.
In Malampa province, all three Area Councils covering 35 villages in North Ambrym and 36 villages in West Ambrym have been completed on April 24 2020. The provincial disaster officer in Lakatoro Abelson Abel confirmed distribution for Malekula have started Tuesday 5 May in North West Area Council which will end soon.   
NDMO has also confirmed next push of relief supplies and goods will be stating soon once all current distribution is complete.
The Food Security and Agriculture Cluster (FSAC) led by the Department of Agriculture has started to assist communities with planting materials as part of recovery measures to worst affected areas.
Meanwhile, the National Emergency Operation Centre (NEOC) is currently undertaking planning for response to TC Harold for affected islands