New Vanuatu CBDRR handbook for facilitators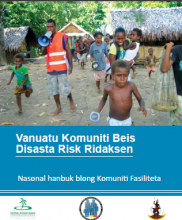 The NDMO and Yumi Redi Consortium can announce the public release of the CBDRR handbook for facilitators. A downloadable PDF version can be found via the below link.
https://www.dropbox.com/s/q71ztxhhhgg68rz/CBDRR%20HANBUK%20NDMO_soft_161008.pdf?dl=0
The CBDRR handbook will be officially launched by the NDMO followed by a 2 day training on the 30th Nov- 1st Dec. Please keep a look out for official invitations over the coming weeks. All participants at this launch and training will receive a hard and soft copy of the handbook inclusive of accompanying tools and materials.
This handbook is a testament to the effective collaboration between the Vanuatu government and its humanitarian partners in standardizing approaches and establishing minimum standards to DRR in Vanuatu, which has been on an ongoing labour of love for many DRR stakeholders. This handbook has been made possible by the generous support of ECHO.
For ongoing information about this handbook and the CBDRR WG please liaise directly with Alice at the NDMO: asanga@vanuatu.gov.vu
For Yumi Redi Consortium related matters please liaise with Karin Maasel Karin.Maasel@savethechildren.org.vu