Prime Minister of Vanuatu - Honourable Bob Loughman Remarks International Court of Justice (ICJ)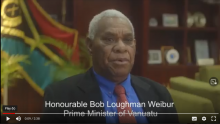 The Vanuatu Prime Minister, Honourable Bob Loughman Weibur, has made an important speech in giving remarks to the International Court of Justice (ICJ).
One of his remarks, "Most Importanly an advisory opinion from the ICJ will send a clear signal to present our future generations, that meaningful Climate action and the life of this planet is non-negotiable."
To see the full offficial video of this remarks for the ICJ, click on the link on the side where related Information is and from there you will be able to view the actual and full video for the PM remarks for ICJ and  you can be able to downlaod this video.