Vanuatu Attending COP27 With Ambitious Package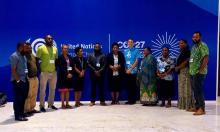 The Ministry of Climate Change (MoCC) has revealed the first group who will be attending the preparatory meetings of the Vanuatu delegation to the Twenty Seventh Conference of the Parties (COP27) to the United Nations Framework Convention on Climate Change in Sharm El-Sheikh, Egypt, will be departing on Sunday, October 30.
The Vanuatu delegation to COP27 this year comprises of representatives from different Government Ministries such as the State House, Ministry of Agriculture, Fisheries, Forestry, Livestock and Biosecurity, Ministry of Lands and Natural Resources, Prime Minister's Office and State Law Office, Ministry of Justice and Social Welfare, Ministry of Foreign Affairs and External Trades and Ministry of Climate Change and this includes Non-Government Organisations, youth and women's representatives.
This high-level delegation will be led by the President to the Republic of Vanuatu, Nikenike Vurobaravu and the First Lady. They will be joined by Vanuatu's Ambassador to the United Nations Odo Tevi, Ambassador George Maniuri from Vanuatu's High Commission in Brussels and together with other officials who will be negotiating on behalf of Vanuatu at the COP meeting.
This is to ensure all relevant sectors are represented at this important climate conference, and not just the Ministry of Climate Change as the delegation is hoping to deliberate on various bilateral meetings and side events as a way to show case Vanuatu's efforts towards addressing impacts of climate change
The COP27 is expected to build on previous successes and paving the way for future ambition as participating countries build on the 2021 Glasgow momentum, seeking to further enhance the scope of deliverables across the climate action agenda.
Vanuatu enters the COP27, which will take place from November 6 to 18, with an ambitious package that comes under different thematic areas such as Finance, Mitigation, Transparency, Loss & Damage, Adaptation, Gender, Oceans, Capacity Building, and Science and Review.
The goal on Finance is to ensure that Vanuatu has access to new, addition, scaled up and predictable finance for adaptation, mitigation and loss & damage.
This focuses on the US$100 billion Goal and the Global Finance Goal.
By dailypost.vu
, Oct 29, 2022