Vanuatu Forecasters launches a New weather forecasting system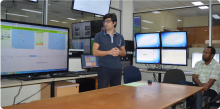 The Vanuatu Meteo and Geo-Hazards Division together with the Project Management Unit (PMU) have launched the new weather focasting system that was acquired last year.
This new weather system was implemented by the Meteo France International (MFI), a subsidiary of Météo-France, the French National Meteorological Service, who had implemented efficient meteorological solutions in 109 countries, including Vanuatu.
This system was showcased by Uma Bani, a forecasting officer early May this year. All attendees were impressed on how the system automates tasks for the forecasters.
Mr. Jerry Timothy, Climate Principal Scientific Officer said  "Meteo Factory is a whole new forecasting dissemination system that will benefit the NGO's, Government stakeholders and public at large by them receiving timely and more accurate information of severe weather such as flash flooding, thunderstorm, heavy rainfall, coastal wind warning and high seas wind warning, Tsunami information and tropical cyclone warnings'." This is an improvement compared to current dissemination system.
By Iuma Bani, Climate Division