Vanuatu highlights carbon neutral strategy at COP27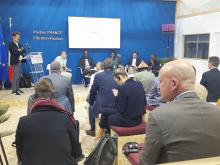 Vanuatu is taking global warming seriously as it pledges carbon net zero emissions by 2050 in its new strategy plan, despite doing the least to contribute to global emissions.
The Principal Scientific Officer Mitigation for the Climate Change Department, Nelson Kalo, highlighted the adaptation component of the Low Emission Development Strategy (LEDS) in a panel discussion at the French Pavilion during the United Nations Climate Change Conference (COP27) in Egypt.
Under the United Nations Framework Convention on Climate Change (UNFCCC), countries are required to publish long-term low greenhouse gas emission strategies.
Vanuatu's strategy is supported by the Agence Française de Development (AFD) and the Global Green Growth Institute (GGGI) with funding support from the New Zealand Government. The strategy covers emission reduction and climate adaptation.
Kalo said the strategy compliments the Nationally Determined Contributions (NDC) guide short-term actions while LEDS align long-term ones. He said LEDS guides low carbon planning in key areas such as energy, agriculture, transport, forestry and livestock.
Kalo is representing Vanuatu discussions and negotiations at COP27 surrounding Article 6 of the Paris Agreement and Mitigation, one of the technical issues at COP27 that requires consensus.
Finalised at the Glasgow UN Climate Conference last year, Article 6 allows countries to use carbon credits to meet mitigation actions. It allows for the establishment of a global market system to help countries decarbonise their economies at a lower cost through cooperation and investment.
For Vanuatu and other vulnerable countries, the targets set out in the NDC and the strategy depends on external funding and technical assistance. They cannot pay from their own funds, that is why a carbon market is allowed under Article 6 to diminish the financial burden of countries.
There are still issues to be discussed and agreed by all parties under Article 6. There are countries that do not want to cooperate.
Principal Scientific Officer Mitigation Kalo said views and issues on carbon market mechanisms and mitigation work have been shared as part of their discussions. He anticipates there will be progress in negotiations but not major.
Director of Energy, Anthony Garae, presented the energy component of the LEDS in a different panel discussion.
(By Anita Roberts in Sharm El-Sheikh, Egypt , Nov 15, 2022) news@dailypost.vu