Vanuatu Pushes for More Support at UN Climate Negotiations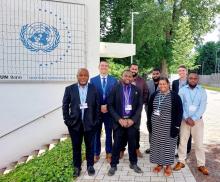 An 8-member Vanuatu delegation has joined other countries in Germany to discuss the earth's future, which is currently being threatened by climate change.
The Bonn Climate Change Conference which started on Monday, June 6 and will end on the 16th, is designed to prepare for the UN Climate Change Conference COP27 in November this year.
Pacific Leaders have affirmed that climate change is one of the greatest threats to the livelihoods, security and wellbeing of the people in the region.
On May 27, 2022, the Parliament of Vanuatu unanimously approved a Declaration of Climate Emergency, highlighting the direct impacts of climate change on the people of Vanuatu, societies, and natural resources and confirming that climate change is now undermining the fundamental human rights of present and future generations of Vanuatu's people.
Despite these climate change concerns, some countries around the world continue to expand fossil fuel projects with new coal, oil and gas, which, according to robust scientific evidence from the Intergovernmental Panel on Climate Change, will take the earth well beyond the 1.5 degrees Celsius warming limit as agreed within the Paris Agreement.
The richest countries in the world are yet to complete their funding commitments to support our most vulnerable communities.
In this context, Vanuatu's National Advisory Board on Climate Change and Disaster Risk Reduction has successfully obtained full donor funding to send a delegation of eight climate negotiators to the United Nations (UN) climate change conference in Bonn, Germany, to push for more action and support for the benefit of the people of Vanuatu.
Vanuatu's participation at this climate conference in Germany is an important build-up towards the COP27 UN climate change conference that will take place later this year in Egypt.
Similar past UN climate negotiation processes by Vanuatu have resulted in billions of vatu for resilient development, now being implemented in communities in all provinces and islands.
For example, climate funds secured by the Ministry of Climate Change Adaptation across multiple climate projects at all levels have been used to build and rehabilitate roads, airports, wharves, clinics, water supply systems, evacuation centres, schools, agricultural plantations, fisheries and even document traditional knowledge.
UN climate finance has, in the last few years, built climate-proof local area council field offices in Central Pentecost, South Santo, South Erromango and even Loh, Torres.
It has upgraded water supply systems and rain water catchments in hundreds of villages around the country.
Climate finance has been channelled to the Public Works Department to build climate-proof access roads across the nation.
Climate finance is responsible for new Government policies and for the tailored climate forecasting and early warning systems which so many people rely on.
Commonly it is climate change funding that is actually supporting the critical community and island operations of our line agencies and departments, and even funding the work of our local NGOs and Civil Society Organisations.
New projects starting in 2022 are even working to build urban resilience in Port Vila and Luganville, including a world standard weather radar to help ships and airlines. Nearly all of this finance results from the work of Vanuatu's delegation to these UN climate negotiations.
But Vanuatu needs much more; The enhanced Nationally Determined Contribution indicates that Vanuatu will require more than $1.2 billion US, to be funded by our donor partners, through 2030 to implement our most urgent mitigation, adaptation and loss and damage needs.
In Germany this week from June 6 to 18, Vanuatu alongside its Pacific neighbours push for new projects that double current adaptation finance, as well as ask for an entirely new stream of funding for communities and businesses that are wiped out by extreme events like cyclones, and slow onset climate change like sea level rise and ocean acidification.
Vanuatu delegates are also stepping up pressure on countries to get rid of fossil fuels like coal, oil and gas entirely, to help to keep temperature rise below 1.5 degrees.
Vanuatu's negotiating team to this climate conference will cover various thematic areas including climate change adaptation, loss and damage, mitigation around Article 6, climate finance, transparency, research science, gender, technology and oceans.
Discussions in Germany of Vanuatu's foreign policy priority to bring climate change to the International Court of Justice are expected to inject new ambition and urgency into pledges made by countries when the climate Resolution is tabled by Vanuatu at the UN General Assembly later this year.
The negotiations over the coming days will be intense for Vanuatu delegates in Bonn, with late night sessions and strong pressure against Vanuatu's positions from many countries. Other delegates representing various sectors from the government, private sectors and NGOs will follow the negotiations in Vanuatu using the conference virtual platform.
Through the capacity building work done by the Ministry of Climate Change over the past years, the delegation to the current meeting in Germany is one of the biggest for Vanuatu, compared to previous years, to bring the grassroots' needs to the international level.